Online Events
We've a range of live and pre-recorded online tasting experiences for individuals as well as groups, private and corporate.
Friday Night Cheese and Wine Club events
To join our Friday night events, just buy a pack and you'll receive it in plenty of time, along with a tasting card, recipe and a link to the show.
---
Online individual tastings
For individual tastings, simply buy a pack and you'll receive your cheeses and wines, a show video and instructions. Then you just sit back, sip and enjoy!
---
YouHost online group events
If you would like to host your own private online event using our videos, select the YouHost option and you and your guests will receive your packs and you will receive a show video link, hosting instructions, quizzes and prizes.
---
Live events hosted
For live online events hosted by Francis and the team, please get in touch. 01428 656 319.
Events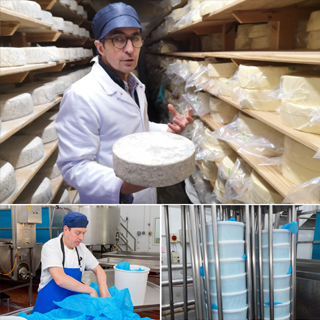 Friday Night Cheese and Wine Club
Britain's finest cheesemakers are struggling to find their marketplace with restaurants closed and events cancelled.
Online, on demand individual and group events
This fun, online tasting showcases the finest British cheeses and matching international wines in a humour-filled show. Inspired by cheesemaker and wine expert Francis Gimblett's 100 Cheesemakers in 100 Days road trip and forthcoming book, Gimblett's Guide to the Best of British Cheese, the experience is engaging, fun and highly interactive.